Apparently, being able to use Oracle's SQL Developer to connect to SQL Server databases has been around for a while (via third party drivers), but I only started using it today for the first time, with SQL Developer 4 EA2 after my colleague mentioned it to me this afternoon 🙂
First of all, thanks to DJ's blog here as a base for the instructions that follow.  Here's how you can set this up:
Download the jTDS 3rd party JDBC driver, version 1.2.8 from here (I've not personally tested with other versions).
Save and extract the contents of the jtds-1.2.8-dist.zip file somewhere safe (I extracted mine under "C:\oracle\sqldeveloper\add-ons\jtds-1.2.8-dist\").
Start SQL Developer go to Tools > Preferences > Database > Third Party JDBC Drivers.
Click "Add Entry", point to the 'jtds-1.2.8.jar' file location, then select it and click OK.
Create a new connection, and choose the "SQLServer" tab.
Enter the following details: Connection Name (required for database retrieval), Username, Password, Hostname, and Port.
Click "Retrieve database" and select the appropriate database, then Save/Test/Connect as you would do normally.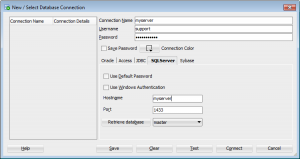 You'll notice from the screen shot above that you can also use this to connect to Sybase databases, although I've not tried this out myself.
UPDATE: If you at any point decide to use Windows authentication to connect (like I just did), then you might hit this error:
Status : Failure -I/O Error: SSO Failed: Native SSPI library not loaded. Check the java.library.path system property.
…I quickly found a work around, which involved copying the "..\jtds-1.2\x64\SSO\ntlmauth.dll" file from the jTDS directory to the "%JAVA_HOME%\jre\bin" folder.  Then I restarted SQL Developer and it all worked fine 😉